The importance of a GS1 license that can validate a company's membership and product information cannot be understated.
The governments of China & Vietnam have been in the forefront of requiring a clear indication of active GS1 Membership before goods can be moved within their countries.
The Chinese Embassy, Economic & Commercial Counsellor's Office had even requested for GS1 assistance in verifying a Malaysian company's registration information to facilitate legal investigations, which GS1 Malaysia was able to provide accurately.
Note: The Membership License and Member Product License issued to our active members is only valid for the current financial year. The License for the following year will only be issued upon request. The Member Product License entails a cost of RM 80.00 per certificate.
                     GS1 Malaysia Membership License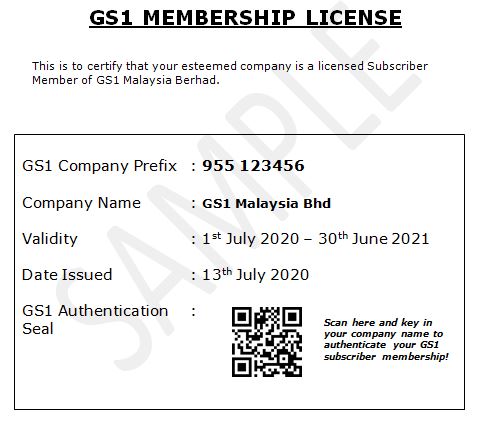 GS1 Malaysia Member Product License
                    NOTE: Products must already be in the GS1 Malaysia Member Product Databank before the certificate can be issued.